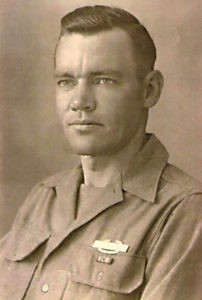 by Dianne Hickey Rose, Member
My father, Thomas Rye Hickey, died November 4, 1951, after falling 1,200 feet down a mine shaft. He was working for the Tennessee Copper Company in Copperhill, Tennessee at the time of his death. He was 39 years old; I was 3. My mother, Ollie, was left a widow at 30, with 3 young daughters and no means of support.
Since mother seldom talked about him, and there were few photos of him, he somehow never seemed quite real to me. But as I was nearing retirement age, I became interested in knowing more about him and their life together. And I wanted to put my family mementos in order, to pass on to my sons and granddaughter. When I began, I never dreamed what the end result would be.
I started by sorting the 182 letters, postcards, and v-mail he had written to my mother during World War II into chronological order. As I sorted, scanned, and copied the fragile pages, I read them. I was fortunate that he had dated each letter and written his location on it. After a while, I started a spreadsheet to keep track of his location and what was happening to him.
These letters enabled me to know him better in some ways than many people who have lived decades with their fathers. Through his letters, I followed his service from draft notice, through basic training, sleeping outside in Kansas in February without a tent, to a 26 mile march in the Mojave Desert. There were gaps in the letters when mother was able to join him for a few months. I was fascinated to hear him "talk" about his ambivalence at qualifying on the machine gun or about the time he almost sat on a rattlesnake in the Mojave Desert. He wrote that 10-11 men went "over the hill" every day, but that he never
would, no matter how bad it got.
I quickly became obsessed and began researching about the places he was stationed. He served with the 9th Armored Infantry Battalion. When he mentioned in an October 1944 letter that he had sailed to England on the Queen Mary, I began to suspect the extent of his service.
Early in my research I wrote to the NPRC to obtain a copy of his military records. That's when I learned that 10-16 million military records were destroyed in a warehouse fire in 1973. My father's records, along with those of his 3 brothers, were among those destroyed. I was able to get a copy of his discharge document, which showed he fought in the Ardennes. There was the proof of what I had begun suspecting from his letters. My father fought in the Battle of the Bulge and no one in the family was aware of it! He called the Battle of the Bulge "the storm" in his letters. He was awarded a Purple Heart for a shrapnel wound he received while he was driving a half-track in Luxembourg. He mentioned it briefly in one letter, but said he "kept going."
My parents had been married less than two years when he was drafted into service in August 1942. Every letter home reflected his homesickness and love for my mother. When my sister was born in 1943, he talked of his love for her as well. He smoked Camels, liked chicken and chocolate cake, and had a weakness for shooting craps. He never mentioned the hardships he endured. He worried about his brothers Joe and Dick, who were also fighting in Europe. Dick was wounded in Sicily and Joe was a German POW in Stalag VII in Moosburg, Germany.
In his letter dated April 26, 1945 he wrote that his outfit was the first to cross into Germany. That would have been across the Remagen Bridge. On May 8, he was in Czechoslovakia when word came that the war was over. The Army had been massing in Czechoslovakia for the next front. He returned to the States in early October, 1945. I inherited my father's Purple Heart and Army Good Conduct Medal from my mother. I spent a lot of time researching the other awards and medals he was entitled to and spent a full year corresponding with the NPRC before I received them all.
This is the full list: Bronze Star, Purple Heart, Army Good Conduct Medal, American Campaign – WWII, Europe-Africa-Middle Eastern Campaign with 3 bronze stars, World War II Victory Medal, Combat Infantry Badge 1st Award, Expert Badge with Machine Gun Bar, Sharpshooter Badge with Rifle Bar, Marksman Badge with Carbine Bar.
My son Scott, who served 10 years with the Navy, helped me organize a shadowbox to display them appropriately. I wish my mother was still alive to see it.
In 2014, my son Jeff and I traveled to Germany, Luxembourg, and Belgium. For me it was a pilgrimage. We visited Coburg, Germany, which was mentioned many times in his letters. At our hotel, we were fortunate enough to meet a woman who remembered where the American Army had camped and marked it on a map. I have no idea where in Luxembourg he was when wounded, but we did see the American memorial and walked down Franklin D. Roosevelt Boulevard.
Before leaving the U.S., I arranged a tour guide, Roby Clam, for our visit to Bastogne, Belgium. Roby took us to each of the roadside memorials dedicated to American troops, the Mardasson War Memorial, and to the place where the 9th Armored Infantry Battalion fought during the Battle of the Bulge. It was a moving experience to see where my father fought and to realize how grateful the Belgians still are to the Americans who fought and died there.
I am so very proud of my father and wish more than ever that I could have known this truly remarkable, courageous man.