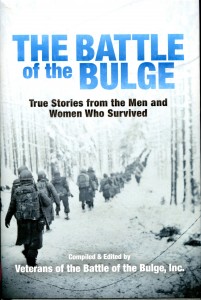 BOBA, INC. DOES NOT SELL THE BOOK. TO PURCHASE, GO TO:

1. Barnes & Noble
2. Online:
Amazon – http://www.amazon.com
Barnes & Noble – http://www.barnesandnoble.com
There are no doubt other online sources available, but we recommend you deal with Amazon or Barnes & Noble, as they are reputable.
The best way to order a book, whether you do it online or in the bookstore, is provide the ISBN and the title of the book:
ISBN: 978-0-9910962-3-7
Title: The Battle of the Bulge, True Stories From the Men and Women who Survived
The price of the book is $34.99
YOU CANNOT ORDER THE BOOK THROUGH BOBA.
However, we do receive royalties from the sale of each book. We appreciate your support!