by Francis Chesko, 7 ARMDD &148 Cmbt Engr Bn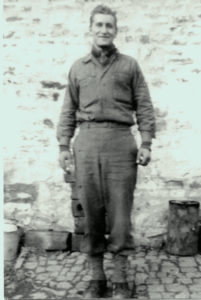 Sgt. Francis Chesko was a part of the 148th Engineer Battalion, who found themselves temporarily attached to several different divisions and corps of the 1st US Army. As part of the battalion, their unit's primary purpose was to build bridges. They were attached to the 82nd Airborne, 101st Airborne, 2nd Armored, 90th Infantry, VII Corp and VIII Corps. They served in the battles of Normandy, Rhineland, Northern France, Central Europe, and the Ardennes (Battle of the Bulge) – and this is his War Story.
I left New Cumberland, PA on March 2, 1943, for Basic Training in Camp Shelby, MS. We spent our time building bridges, making roads, working with explosives, learning to fire rifles, machine guns & bazookas, throwing hand grenades, burying land mines, searching for mines and detectors and learning how to dig them up and disarm them, learning how to blow up bridges and build tank traps, etc.
I came home in July on a 10-day furlough, and then it was back to Mississippi for more training before traveling to Rhode Island on October 8, 1943 for departure to England. After ten days of zig-zagging in order to fool the German subs, we made our arrival in Gottington, England on October 18, 1943.
Our next home from October to June was in six man tents at Swindon, England. In our training, we built a "Baily Bridge" across the Thames River at 3 o'clock in the morning in 3 1/2 hours—"WOW!!" Then we built a landing strip at Swindon (more about that later).
Promoted to Corporal, and one day I was on C.Q. (Charge of Quarters) at the C.P. (Command Post) when a girl came in. I asked her what she wanted and she said she was looking for a soldier named Chesko. I told her I was Chesko, and she asked if I was Joe Chesko's brother. I told her I was, and she told me Joe was stationed at Devizes, which was about 25 miles from me. Joe and I couldn't write to each other because the enemy might find out where we were (yeah, they knew where we were all the time).
I went to see Captain Zadney and asked him for a Jeep and a weekend pass. Wow, you should have seen the look on his face!!! But after I explained the situation, he gave me the Jeep and the pass. Brother Joe was in the 4th Armored Division and his tank was called the "Coal Cracker."
I got into the Jeep and departed on my journey to see brother Joe. I got to Devizes where he was stationed and found his barracks. I proceeded up the steps and he was sitting on the bunk with his back to me—he was writing a letter home. I snuck up on him and grabbed him with both hands around the neck and wouldn't let him turn around. He said a few unprintable words and then I let go. Boy, was he surprised to see me! I stayed the weekend with him talking about the Army and, of course, of home too. It was just too bad we didn't have a camera!
Shortly after my visit with Joe, our outfit got orders to move south in England to the front of Southampton to leave for France and Normandy Beach sector code-named "Utah." A twenty-year old kid, wet behind the ears yet, scared to death and seeing mangled bodies all over the place—some alive, but most were dead.
The first night in France, we were going up a road and the Germans started shelling us. We all jumped into a ditch and I landed on a body. It was pretty dark and I couldn't make out if it was a German or an American. I could feel his ear and face but no movement. (Boy, did I get out of there in a hurry!) After going through the dreaded hedge rows, we were advancing on a little town called La Haye-du-Puits. The next thing I know, I'm in a field hospital and doctors are pulling the skin off my legs, face, arms and hands because I had been burned.
Remember a paragraph or so back I said we built a landing strip at an airport at Swindon? Well, on the plane over the English Channel, I asked a nurse where we would land in England and she said, "Swindon." (Thank God we did a good job of building the landing strip!)
The first morning at the hospital, the head nurse asked, "Whose bed is this that isn't made up?" I told her it was mine, but I couldn't make it because every time I tried to tuck in the blankets, I would scrape the skin off my hands. So she was kind enough to find someone to make it up for me. (Wasn't that nice of her?)
After 50 days of recuperating in England, I was back to France on September 7, 1944. I joined the 7th Armored Division on October 16th in Holland. On October 29th, we were attacked by tiger tanks. On December 1st, we were in Aachen, Germany, which was the first city in Germany to be taken in the war. What a sight it was around the outside of the city—hardly a tree was left standing, and holes are all over the ground from all the shells falling from German and American artillery and from American bombs.
On December 16th, we were told to load up our trucks because we were going back about 50 miles. We thought, "Oh boy, a rest at last!" However, we were mistaken because that was the start of the "Battle of the Bulge." It was very cold, with snow and fog, and we had no winter clothing or boots. Boy, did we suffer—sometimes our fingers would stick to our rifles.
One day we were building a small bridge out of logs that we had cut down in the forest when an 88mm shell came over my head and struck about 10 yards away. One buddy of mine, Michael Haase from N.Y., got the full force of the shell. It almost took his head off. He died instantly—what a terrible sight.
While fighting the Battle of the Bulge, we joined up with the British 1st Army. One day we spotted some smoke coming from behind a concrete bunker. We thought it was Germans trying to keep warm, so we crawled on our stomachs through the snow while some bullets were flying. You'll never guess who it was!!! That's right, you guessed it…it was 4 o'clock and the British were having tea! One of them asked me, "Would you care for a spot of tea, Yank?" I accepted.
Another time we were advancing and couldn't figure out where the bullets were coming from. Then we spotted movement under haystacks where the Germans were. One of our tanks blew the haystacks down. When we got to the spot where the haystacks had been, we found one German who was cut in half, with his intestines strung out along the ground. Both of his arms were cut off near the shoulder. He was covered with gun powder and looked like a bust. Now comes the worst part: one of our soldiers picked up an arm and took off the wrist watch. He also tried to pull off the man's ring, but he couldn't get it off. So he hacked off the finger with his bayonet. ("Ugh," and double "Ugh"—gruesome!!!)
Up in Holland, we were on one side of a canal and there were Germans on the other side. There was a bridge across the canal, so we planted explosives on it and left two men to blow it up if the Germans tried to cross. It was getting dark and most of us went into a house and bedded down. About 6 o'clock in the morning, I was on guard outside of the house and I heard tanks coming down the street. It was just getting light and I could make out that they were German tanks. I went in and got the Lieutenant by the shoulder and woke him up. I told him the German tanks were coming down the street, but he said that they couldn't be, because the guards left on the bridge had orders to blow it up! Just then, an 88 mm shell went right through our truck and the Lieutenant gave the order to grab a bazooka. We aimed it at a tank, but it misfired, so we went out the back door of the house and went into the field. The German tank came right through the house after us. We were running alongside a fence and all of a sudden something hit me and knocked me over. A bullet had hit a fence post and a piece of wood hit my cartridge belt and that was what knocked me over. I was lucky I was not hurt. God was with us. Some American tanks and tank destroyers knocked out the German tanks. The next day, one of the men who was left to guard the bridge caught up with us and told the Lieutenant that the Germans took the bridge by surprise, and he was the only one who got away.
One night the Germans bombarded us with mortars. I was under a ditch overhang alongside a road. When it got light, I saw that there was a mortar stuck in the dirt above me. Thank God it was a "dud"—otherwise I wouldn't be writing this!