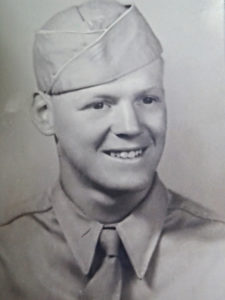 After being drafted on April 10, 1943, Mark W. Kistler boarded a train to begin his basic in Florida. While at Camp Blanding, FL during boot camp, Mark was sent 2 separate telegrams from his family to go see his sick mother back home in Pennsylvania. His 1st Sgt. apparently had torn them up. Kistler never knew why. He finally got a letter from his brother asking him when he was coming home. Mark showed the letter to his Lieutenant and he told Mark to immediately head home, where he spent 2 weeks with his ailing mother.
When he returned, he discovered his 1st Sgt. had been busted down to Private and transferred out of the unit.
Kistler's unit was shipped on the ocean liner Queen Elizabeth from New York in April 1944 to Scotland and then England. He landed at Normandy on Utah Beach on June 11th, 1944.
His first major combat mission was in Cherbourg, France where along with the 101st and 82nd AB, they were able to cut off and capture over 20, 000 Germans soldiers. His troop's main objective was to find the enemy, get information, and to capture prisoners. They advanced so fast that often his platoon never had time to dig in to foxholes.
On September 11th, 1944, Sgt. Kistler was driving in an armored car with his superior officer, Lt. Thompson, when upon reaching an intersection near Spa, Germany, they came across a German patrol. A German soldier hiding in a ditch by the side of the road, wielding a potato masher, hurled his grenade toward the jeep. Lt. Thompson turned and fired at the enemy, killing him. The gunshot threw off the direction of his grenade and it exploded near Kistler, wounding him, sending shrapnel into his legs. Sergeant Kistler believes that Lt. Thompson's quick action saved his life.
After spending time in a field hospital, he was wounded again a few weeks later on September 30th, when he stepped on a booby trap trip-wire and the explosives blew up a tree nearby. He was thrown to the ground from the blast and wounded in the face and legs. After being taken to an aid station to get patched up, in three days he was back up on the line. His unit needed replacements so badly they sent him back, otherwise he may have stayed in the hospital. To this day he still carries pieces of the shrapnel and debris in his legs.
While passing through a small village, Sgt, Kistler was driving in his jeep and came cross a Frenchman, who came walking down the middle of the road with a large object in his hands. It turned out to be a large goose that he held. He walked up to Kistler and said to him, "This is all I have left in the world. I would like you to have it for liberating my village from the Nazis and the Italians." The Frenchman hugged and kissed the Sergeant and walked on. Kistler really disliked the hash in the C-rations, and he accepted the goose and proceeded to tie it to the hood of his jeep. After advancing for several days, with the live bird still tied to the front of the jeep, his unit drove into a village where he met a French woman. He offered the goose to her to butcher and cook it for him and his men, in exchange for a bottle of wine. But unfortunately before they had the chance to feast on it, his unit was ordered to move out, and the goose was never seen again.
Fighting through the hedgerows, his unit came up through St. Lo, where over 3,000 planes leveled the town. In September of 1944, his troop made their way north, near the town of Aachen, to battle the Germans in the Hurtgen Forest. For two to three weeks they fought through the thick mud and artillery shelling. The Allies suffered heavy casualties during this battle, Kistler himself almost becoming one again when an artillery shell landed at the very spot he had abandoned only moments before.
During the battle, an American reporter requested to go into the frontlines of the forest with Kistler's unit. They took him through the enemy lines and returned him safely. That young man's name was Andy Rooney, the future "60 Minutes" reporter.
Kistler will always remember the sound of the hob-nail boots on the road as the German soldiers marched past him on the crossroads in Germany.
Marching through Belgium, he was surprised his unit met so little opposition from the German army. The reason was, they were amassing outside of Malmedy, preparing for the ambush that would soon be known as the Battle of the Bulge. Kistler and his unit had just been transported back to Liege, Belgium for R&R, but that was the same day that the Bulge began. No rest for the soldiers.
Mark W. Kistler received 2 Purple Hearts, Good Conduct medal, European African Middle Eastern Campaign Medal with Silver Service Star, WWII Victory Medal, American Campaign Medal and a Presidential Unit Citation for efforts during the Battle of the Bulge.
—Submitted by Steve Savage, Lehigh Valley Chapter