Gary Higgins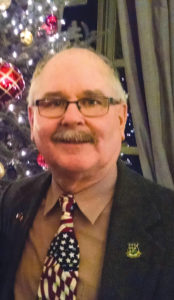 Summertime is winding down, and in no time, our Battle of the Bulge Association reunion will be happening in San Antonio, Texas. Much has gone into the organization and planning of this event. Your Executive Vice President Barbara Mooneyhan is leading the way, with a calendar chock-full of tours and events. Please give her special thanks for her efforts, and get your reservations in. This Bulge Bugle has full details to get you on your way [see pages 16-19.] Adventures, fun, friends and our Veterans will be included for all to enjoy, with new members and new faces as well.
I am always open to new ideas to keep BOBA active and moving forward, so don't hesitate to contact any of your elected officers. Remember, we can all have vision. Long ago, I recall chatter of a WWII memorial to be built in our nation's capital, one truly deserved by the men and women who served. Do you remember those days? It happened, through dedication and unending spirit, and we now know the beauty of that memorial that was dedicated in 2004. The fact it was built proves that "better late then never" is monumental.
With this, I ask each of you to talk to our surviving Veterans, get the stories each has to tell, write and record them. Sharing them allows history to be passed on. With each veteran lost, whatever events and tales they haven't told are lost forever. Often a story will inspire others to open up. It works! Be one to do so and enjoy the opportunity.
As BOBA members—many of us are veterans, as well—we know the legacy of VBOB and why now BOBA will strive to maintain what they laid before us. Read your Bugle and share it with friends. It may mean getting us a few new members. It all helps to get the word out about who we are and what our mission is.
Thank you for your time and I look forward to more good news, stories, and photos from those who take the time to contribute to producing this publication.
Enjoy the rest of your summer, be safe, and see you in San Antonio.