Gary Higgins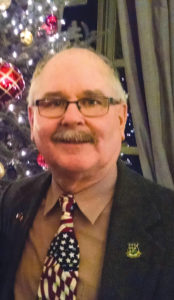 To all of our BOBA members, I wish to say it's been a busy summer and beautiful fall color season.
Our reunion in San Antonio Texas has been completed, with lots of activity and great times for those able to attend, sharing some quality time and history. If you have time and did attend, please write in to the Bugle and share some new stories, which we all enjoy so much.
The membership business meeting was conducted by your President with two plus hours of discussion, elections and bylaw amendments. Doris Davis and her nominating committee, and Alan Cunningham with detailed reports of our transition to BOBA, were very thorough. Tracey Diehl presented her reports, as did others in regard to finances and membership. Teamwork and delegating makes each position operate easier.
The hotel was great, and lots of tours and sightseeing were enjoyed by all. If you read the recent Bugles, you know about these events and what we did. Having Dick Cole as a surprise guest one day was quite exceptional. Mr. Cole was the Co-Pilot to Jimmy Doolittle, who bombed Tokyo in April 1942. Dick only wanted to hear about our BOBA members' war stories! It was a joyous time for all. The Buckhorn Saloon and Museum, National Museum of the Pacific War and more made the trip so wonderful.
Yes, the Alamo was another of our day tours, along with Fort Sam Houston and a variety of fun dining out experiences. The hospitality room provided quality time, with mingling of members and special guests who stopped in. [Go to reunion page to see photos.]
I was able to do a Battle of the Bulge presentation at a Navy reunion at our hotel., which resulted in BOBA getting some new members! So we are gaining new members, which we all need to work on.
The final evening's banquet with full military color guard and music was an elegant final touch. Barbara Mooneyhan, your Exec VP, is to be given credit for all she did to bring this together. So be sure to thank her and others who assisted her.
Our banquet speaker Sichan Siv, a Cambodian boat refugee, gave a very inspirational talk. He had our full attention, and his endurance and survival story was indeed motivational. He became an ambassador to the US under President George W. Bush. He has written a couple of books, which you can look up, find and read.
Sadly, we are continuing to lose many of our veterans. Please see the Bugle "In Memoriam" pages. We continue to send condolences for those we know of, and share their names and units in the Bugle.
Our next BOBA gathering will be in December, with Doris Davis and her team bringing together planned events that we can all be part of. I know of one couple who are new to BOBA and have already made their reservations to attend. [Go to Dec Event Page for more information.]
Keep your families' Battle of the Bulge stories alive by sending them to the Bugle. Our research resources are limited and we need all the stories we can get directly from you, our members. And whenever possible, try to recruit new members. I was able to give a BOBA talk before almost 1,000 in New Orleans at the Vietnam Veterans National Convention, which resulted in some new memberships.
Our prayers continue for those affected by the devastation of the fall hurricanes, and now the mass shooting in Las Vegas. May we have safer and happier days ahead.