Gary Higgins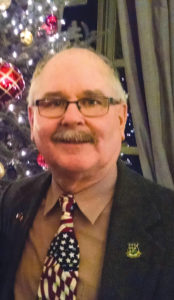 It is hard to believe that 2017 flew by so quickly. It seems I have heard more and more folks saying the older they get, the faster time seems to fly by. I cannot agree more. The BOBA year went by rapidly, but not without many memories.
Our BOBA board had many successful teleconference meetings. There is always business to conduct, and plans to make for our wonderful events, including our yearly reunions, and this past year we took on planning the Washington D.C. annual Bulge commemorative celebration.
The San Antonio Reunion event in September was lots of fun, and educational at the same time. We had about 70 in attendance. What an honor to meet Dick Cole, pilot with Jim Doolittle, and Sichan Siv, a Cambodian refugee who become a U.S. Ambassador to the United Nations. The National WWII Museum of the Pacific impressed our soldiers, who prefer to keep their feet on the ground. The laying of a commemorative wreath in San Antonio made the TV news, so our men will never be forgotten.
The Commemorative event in Washington D.C. was a success, too. It was our first year to honor our veterans by organizing the event, which was formerly organized by the Battle of the Bulge Historical Foundation. There were a number of people I have thanked for this, from all across the country. It is amazing what the power of computers and telephones can do. Those in attendance were able to tour the Pentagon, be honored by the Luxenbourg Ambassador and representatives of the Belgium Embassy. Our group (with 10 Bulge Veterans) was involved in placing a wreath at the WWII Monument and the Battle of the Bulge Monument in Arlington, and the highlight of laying a wreath at the Tomb of the Unknown Soldier. The Tomb of the Unknown Soldier was my favorite. What a gracious host we had with Major General Howard! He made special changes for two of our Bulge Veterans, so they did not have to walk the stairs. He couldn't take away the bitter cold weather, but our hearts were warmed seeing Fred Gordon and Joe Landry participate in a very solemn ceremony. A special congratulations to Alan Cunningham. He received an honor from the Battle of the Bulge Historical Foundation: the 2017 Person of the Year Award. Well-deserved, Alan!
I had accepted an invitation to the Southeast Florida chapter's annual dinner in West Palm Beach, so I flew directly from D.C. to West Palm. Board Member Doris Davis was also able to attend, and we were warmly welcomed by the Chapter President, George Fisher. A nice dinner with guest speaker Donna Katem-Bahensky welcomed about 200 people. Maybe someday, we too will have this many enthusiastic members and family to honor a great group of Bulge Veterans.
2018 will be full of events to promote our wonderful association. I am planning on making an appearance at the 106th Infantry Division Reunion in January in Kissimmee, Florida. I have a special friend who will also attend, whom I met in 2004 during our Battle of the Bulge tour to Belgium with men from across the U.S. It is hard to believe my first tour was 14 years ago. In just over a year, 2019 will arrive and the 75th Commemoration will be here. Plans will soon be in the works for this important date. Help and ideas will be needed, so please let me [gary@battleofthebulge.org] or other board members know your thoughts. Time will be of utmost importance, because as I said at the beginning, it sure does fly.