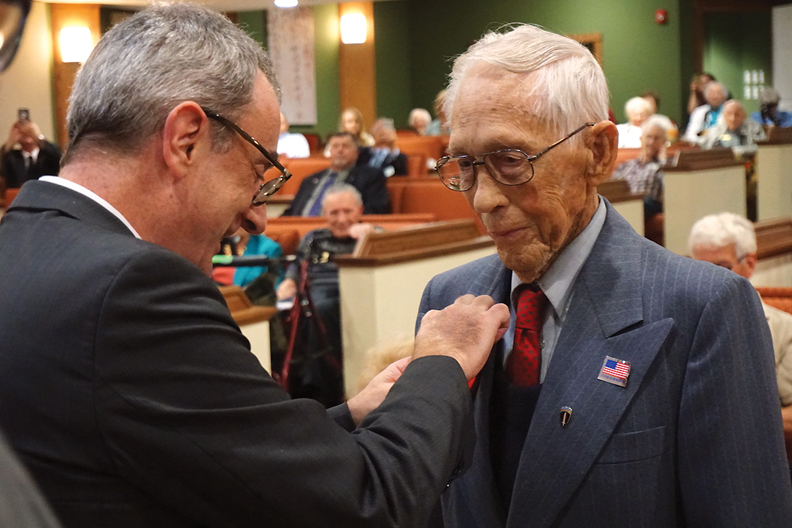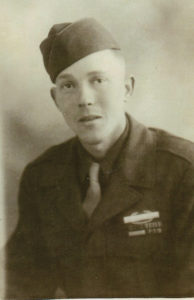 On October 23, 2017, Paul Willis, 97, from Canton, NC, was awarded the French Legion of Honor by the French Consul General, Louis de Corail, at a ceremony in Knoxville, Tennessee. Willis, a Technical Sergeant in Company G, 329th Infantry, 83rd Division, landed in Normandy two weeks after D-Day. During his three years of service, he saw action in Normandy, Brittany, Luxembourg, the Hurtgen Forest, the Battle of the Bulge, and the Rhine River. Although he received a Purple Heart for injuries sustained in the Battle of the Bulge, Willis says the hedgerows of Normandy were his most horrendous experience.
Also present at the Knoxville ceremony, which was held at the Sherrill Hills Retirement Community Theater, were Amelie De Gaulle, grand niece of the late President of France, Charles De Gaulle, and members of the Alliance Francaise Knoxville. Consul General Louis de Corail, who represents France in six Southeastern states and is based in Atlanta, presented the award on behalf of French President Emmanuel Macron. The Legion of Honor, established in 1802 by Napoleon Bonaparte, is awarded for service to France and is its most prestigious honor. Willis and one other WWII Veteran, James Mynatt, US Army Air Force 490th Bomb Group, were presented the Knight's Badge as a pledge of France's eternal gratitude for their courage and fight, after risking their lives for the freedom of France and Europe during the war.
Willis, who worked at Champion Paper and Fibre Company before retiring, has remained active in the community, teaching Sunday School, speaking at school events, and writing poetry. Of Normandy, he wrote:
The hedgerows are where the fires of hell burned bright
For the shell bursts without letup continued day and night.
This brought the cries of "medic!" as the shrapnel spread 
far and wide.
For many there were wounded. Also, many died.
—Excerpt from Normandy Invasion by Paul Willis © 2016
For more information about Paul's poetry, contact wetbird@bellsouth.net.
—Submitted by Brenda Hughes, Member