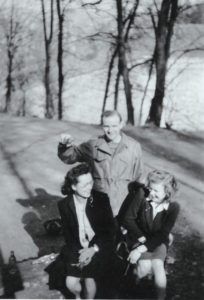 by David Ray Hubbard, HQ Co, Adv Section, Comm Zone, Signal Section
The beginning of a very enjoyable few days with two very lovely Belgian sisters, Louise (20), and Edmée (18) Van Espen, as described in the letter below, written to my Father while my unit was stationed in Flawinne Barracks, Namur, Belgium for several months in 1944-1945. Units under our command supplied all support functions required by the advancing Armies, beginning on D-Day.
23 February 1945
Dearest Daddy,
Want to tell you about the most wonderful experience
I've had while on the Continent. It came by sheer luck, I guess. Yesterday was my afternoon off and I spent it with my newly found acquaintances from a nearby hospital (Derrick is from Johnston, S.S. and is a very good friend of the Steadmans. The other boy is from Philadelphia). We had tramped around all afternoon taking pictures and had just sat down in the Red Cross Club when one of the American RC girls came over and asked the three of us if we'd like to visit in a nice Belgian home for the night. She pointed out the young girl who was there with the invitation and this convinced the three of us that we'd be delighted to accept the invitation. Directions were given to us and 7:30 was set as the time that we should make our appearance. From the very moment we stepped in the house, we were entirely at ease because of their very good hospitality. Both M. &. Mde. Van Esman speak fluent English—in fact they speak much better than lots of Americans I know. The two daughters, Edmée, who is 18, and another whose name I can't recall (she doesn't interest me because she's engaged to be married) is 20. Both speak very good English, especially since they couldn't speak a bit prior to our arrival in the city.
All in all we had a most enjoyable time, since there was absolutely no trouble to converse with them and we learned many very interesting facts that we did not know previously. The three of us plan to return tomorrow night since there is a standing invitation for us to come at any time we wish.
I have about three other letters that I must get off tonight, so I'll sign off for now and will resume again very soon.
Lots of love, David Ray
P.S. The picture is especially for you.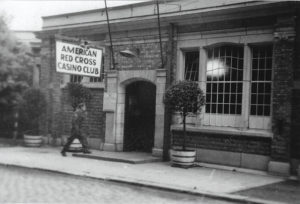 Through all these years, I have often wondered if the Van Espen sisters were still alive. I had kept pictures and memories of the pleasant times my buddy, Jim Derrick and I spent with these lovely girls. Mathilde Schmetz and her husband Marcel have established the Remember Museum 39-45, located in the Belgian town of Thimister-Clermont. This museum is recognized as one of the finest World War II museums in Europe. At our December 2016 meeting of The S. C. Chapter Veterans of the Battle of the Bulge at Fort Jackson, SCI Matilde was our featured speaker, in which she gave many details of the Museum. Afterward, I asked if she could possibly check on any information concerning the Van Espen Sisters. She eagerly agreed to help, since she and Marcel have a son living in Namur. Through the efforts of Mathilde, from Belgium, I was able to get in touch with Edmée. I have been thrilled to regain the friendship that began 72 years ago. Modern means of communication, such as e-mails, have made this possible.
I had asked Edmée to write a synopsis of her life, and posed some specific questions. Her response follows:
It is me behind the desk in the picture at the Red Cross Club. I really don't remember when we met in the Club. You know, I met thousands of GIs while I worked at the Club. We were there to give informations when the soldiers asked what was interesting to visit in town, or what films to see in the cinemas, and how to go to the Citadelle, for instance. Louise and I went only two times walking at the Citadelle with you and James. And another walk with John S. Twaddell and Ralph K. Younger. I still have many addresses from GIs I met at that time. Maybe I hoped to go once to the States and meet some of them!
Louise got married in 1947. With a "pharmacien" druggist or chemist. They had 2 children, a boy Philippe and an girl Chantal (she still lives in Montreal (Canada.) She got married and adopted 3 children, one girl and 2 boys. I never saw them but I know they are colored. Philippe got married and has a boy Nathan and a girl Nina. He divorced, and he just had, a few months ago, a baby girl Clara. He lives in Brussels.
Louise's husband died (cancer) in 1987. And she died in June 2016. My brother Roland died in 1995—he was young, he was born in 1928. I don't know the story of the Citadelle. It is a fortress build many centuries ago. To protect the country I suppose. One of the architects is French Vauban. And soldiers lived there—German during the last war, then the Americans and Belgian after the war, and still now, I think.
I got married in 1951 to an architect. My husband died in 2005. We have 5 children: Michel, Dominique, my daughter who died in 2014 in a plane crash in Mali, Etienne, Olivier, and Jean Paul, who lives in London. He is Blue Badge Tourist guide. I have eight grandchildren and eight great-grandchildren.
That's all I can relate to you about me and my family. I hope you will get this mail soon.
Sincerely yours, Edmée