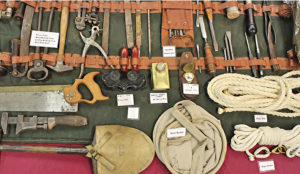 The mission of the Military Honor Park and Museum, located at the main entrance of the South Bend International Airport, is to recognize, acknowledge and pay tribute to all veterans, living and deceased, from each of the five military branches.
The Military Honor Park began as a dream of a few in 1995. A mounted RT-33 Lockheed trainer jet marked the visual beginning of the park. A "pentagon" design would be used, representing each branch of military service, with five bronze service plaques and flags. Also on display, a five-sided black granite monument. As the park grew, a collection of other military hardware was integrated. They would include: Mark 14/17 WWII submarine torpedo; single 3" anti-aircraft gun; twin 3" anti-aircraft gun; AM General 2 1/2 ton utility truck; M60 Patton tank; M42 "Duster" tank; 155MM Howitzer; Hummer "Humvee"; Tartar missile; UH-1 Huey helicopter; and two Talos missiles. There are also 3,500 bricks naming military personnel.
The Honor Park Museum is home to military artifacts representing the five military branches and all U.S. conflicts. Uniforms, weapons, and objects as small as buttons, to as large as motorized vehicles, are on display. The museum also houses a research library and video room.
The Park also includes a granite Veterans of the Battle of the Bulge Monument, dedicated in May 2011, with the financial assistance of late BOBA member Geza Csapo, 32 CAV RECON SQD.
For information, go to: honorpark.org, or call 574-232-4300.