by Lou Cunningham, VBOB President 2001-2003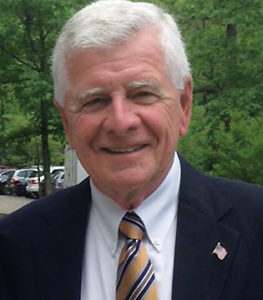 When Ralph Bozorth attended a meeting of the Delaware Chapter of the Veterans of the Battle of the Bulge with a friend VBOB member, he instantly became deeply interested, although not a veteran himself. He joined as an Associate and was soon driving a few of us older suburban members in to meetings at the Naval Yard in Philadelphia and became actively involved, bringing his vitality and expertise to the group. The new electronic age had left most of us behind, so we instantly relied on him. He enrolled all the chapter veterans in the WWII Registry of Remembrances (as well as many more veterans over the years) and created a slide presentation containing veterans' photos which he presented at reunions.
Recognized for his abilities, he was elected as a Trustee on the Executive Council of National VBOB. Later, taking on the responsibilities of Treasurer, he worked diligently to solve the IRS problems and to get VBOB incorporated. If he himself couldn't do something, he found someone who could. At reunions, he was seen rushing around organizing bus trips, showing film presentations, and sometimes handling all the other responsibilities of chairman.
But much of his activity for VBOB was behind the scenes and with our website, bringing in his stepson Kevin Diehl to revamp it, making it more accessible and complete, including a searchable digital archive of all issues of The Bulge Bugle. They added the website's VBOB store, where one can buy QM merchandise, and added online Reunion Registration and a photo gallery of BOB veterans. Ralph posted many photos and news stories to the website on an almost daily basis for years.
Letters were sent by him to all of our member authors who have had their battle stories printed in The Bulge Bugle, to get permission to reprint them in a book. Through his efforts, the book called "The Battle of the Bulge: True Stories from the Men and Women Who Survived" is now printed upon demand and is sold on Amazon's and Barnes and Nobles' websites. We receive royalties from the sales of the book. [Click here for how to purchase the book.]
When no longer able to attend reunions because of his wife's illness, he continued working quietly in the background, helping to edit the Bugle, and became Editor upon the death of George Chekan, who had been editor for many years. Now he has retired, and the website and publication are being handled efficiently by Kevin and Tracey Diehl, VBOB Member Services. His accomplishments on behalf of VBOB have been too numerous to list here. Our best way of summing up is that Ralph brought VBOB into the 2lst Century. We at VBOB thank him for that.