by Jan Ross, Associate Member
We, Jan Ross and Brad Peters, have created and maintained a comprehensive web site (www.300thcombatenginersinwwii.com) over the past ten years to recognize Jan's father's unit that fought in the Battle of the Bulge.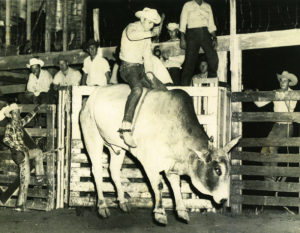 Tech. 5 Kenneth Morris was a Company A truck driver with the 300th Engineer Combat Battalion in the Battle of the Bulge. He still carries the nickname "Cowboy" because of his time after the war on the international rodeo circuit as a champion bull rider. He continues to live in his home town of Watts, Oklahoma. He attends reunions of the 300th with his extended family in some cases with four generations. His grandson, Congressman Markwayne Mullin represents the Second Oklahoma District in the United States Congress. What follows are some of Cowboy's recollections from interviews with him at the 300th reunions and transcribed for the 300th web site.   
They had us in this old château in Belgium owned by a cousin of the King of Belgium. They made us move out of the castle. It had a moat all around it with all those fish in it and a drawbridge which was stationary. So they kicked us back out into the mud. As we went across this drawbridge, we had those hand grenades and percussion grenades. So I took a percussion grenade and got right by the rail and dropped that thing into the moat. When it hit and exploded those fish just came up to the top, all dead. That old man was really mad. About a week or so later Lt. Taylor [1 Lt. William H. Taylor, Jr.] said, "Morris, why did you kill the old man's fish?" I said, 'What made you think I did it?" He said, "I couldn't think about anyone else but you that would do it."
We had two bridges to blow, a railroad bridge and a road bridge. The 84th Division was coming out of there and they had a tank destroyer attached to them. They were supposed to tell us if we were to get cut off and we were supposed to blow the bridges and follow them out. About three o'clock in the morning on the 24th [December] the 84th just left and left us unguarded. Then there was a column of German tanks coming down our road. About a half mile before they got to us they turned to the right and all hell broke loose. Whoever was building a bridge up there really got shot up. A truck of ours later came through and they had run into an ambush and some of them got killed.
Our platoon commander, Lt. Taylor, was one of our best liked officers. I said to him, "Let's blow these damn bridges and get the hell out of here." He said, "Let's wait." So later I said, "Let me take your jeep and drive and see if I can find a way out of here." He said, "No, we are staying right here." Finally, way later, and I shouldn't have done it, but I said, "Lt. Taylor, I'm responsible for my truck, I'll load the men up and try to get them out of here. And if you don't let me do that, I'm going to burn it up, because if we stay till morning we all will be dead. We have to get out of here now." So he finally said, "Okay blow the bridges."
I was driving the lead truck when we left and told my men, "If I get hit you jump up here and keep driving." It was real dark, black, and we just had the cat eyes. I could see the horizon and just kept driving until we got out of those trees. Somebody must have been helping us. The rest of the platoon followed me and we came to another crossroad. We could see a bunch of cat eyes, so we stopped. It was about a dozen of our tanks. So, I said to the Captain of the tank unit, "Where are you guys going." He said, "There are some engineers cut off in there and we're going to get them." I said, "We're the engineers and we are getting out. There's no one else up there but Germans." He said, "We're coming to fight a war." And I said, "It would be suicide – those Sherman tanks are no match for those Tigers, don't do it." But they followed those tanks up there and I've always wondered what happened to them.
Cowboy remembers Ray Gordon. Ray was raised in a little town called Watts in Oklahoma and I was raised in a little town just 10 miles apart. I knew Ray for years before we ever came to the Army. Ray was easy to make mad. You'd tease him a little bit but he'd get over it right quick. One time, we'd been following the tanks all night through a wooded area in Germany. One of the boys built a little old fire. It was cold and wet. We had some cans of gas on the end of the truck and this guy went and got some gas in his steel helmet. Ray had his back to the fire and the guy tried to throw a splash of gas on the fire but it went all over Ray's back. Ray was on fire. It scared him and he started running. I started after him. I had some blankets in the truck and it took three of us to get him down and throw them blankets on him to get out the fire. He never got burned anywhere but he sure was on fire. He was pretty scared.
One time Ray got mad. We had just gotten packages from home and it was after Christmas. We were stopped and everyone was opening up his packages. I was opening mine and it had a safety razor. It had a little handle that screwed into it. The handle broke off so the razor was no good. I didn't say nothing and put it back in the box. We got to swapping boxes and I swapped with Ray. When Ray opened it up and saw it was broke he was really mad and jumped up. I said, "Ray, if you was smart, dammit, shut your mouth like I did and you'd have swapped it off to somebody else." That was Ray. I liked Ray.
We were on this trip south to southern Germany and the war was practically over. We had gone over to the Third Army. It was 1 May and it was snowing. There was this general there and you could tell he had not been there long. He had this red board up there with two big stars shining. So he stopped right beside me and said, "Soldier where are you going?" I thought this must be some kind of joke or something. So I said, "We are attached to this armored division." So he said again, "Where are you going?" I said, "Hell, I don't know we are just following those tanks." So he said, "Have you got a trip ticket?" So I knew he had just got up there because you know damn well you don't have any trip tickets in a combat mission. So I said, "We haven't had a trip ticket since we left England." So he said, "Don't you have a map?" So I said, "What would we be doing with a map?" So I said, "You got a map?" He said, "No we are just following you boys. We are lost." And I said, "Obviously if you're lost I guess we are lost also." A two-star general asking a truck driver where to go."