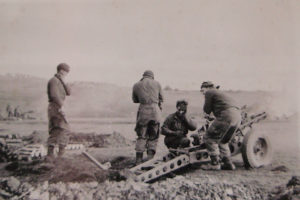 VBOB Member Mahlon Sebring was in the 82nd Airborne Division, 319th Glider Field Artillery, A Battery. This is a photo he took of his Gun Section on a firing mission during the Battle of the Bulge. The 319th GFA used the small 75mm Pack Howitzers.The soldier at the far left is Donald Swanson from Minnesota, and on the far right is James Thousands from Ithaca, NY. (The middle two soldiers are unidentified.)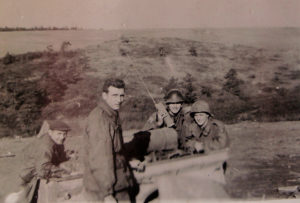 Sebring was technically considered a Field Wireman, but saw duty within the Gun Section, as well as assisting a Lieutenant at Forward Observer positions. Mr. Sebring turns 92 this July 9th. This will be the fourth year he and his son Greg have gone to Fort Bragg, NC for "All American Week", home of the 82nd Airborne.
L to R: PVT Hornyak, SGT Covais, PVT Sebring, PVT Ferrante.
—Submitted by Greg Sebring, Mahlon Sebring's son