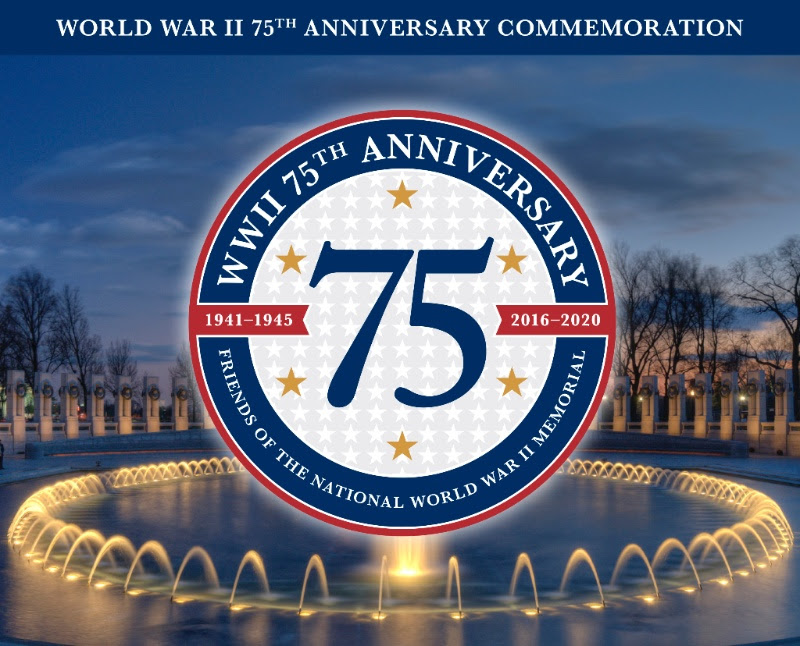 Please help the Friends of the National World War II Memorial, bring honor and recognition to our "Greatest Generation" by joining us at the WWII Memorial in Washington, DC for special ceremonies and commemoration throughout the year.
http://www.wwiimemorialfriends.org
2016 promises to be a historic year at the Memorial, as we prepare to kick-off a four-year 75th anniversary commemoration of World War II, beginning on December 7, 2016 and concluding on September 2, 2020.
2016 Calendar of Events
Sun., May 8 V-E Day (Mother's Day) 11:00 a.m.
Tues., May 17 U.S. Army Blues 6:00 p.m.
Mon., May 30 Memorial Day 9:00 a.m.
Mon., June 6 D-Day Commemoration Wreath Laying 10:00 a.m.
Thurs.,Aug 25 U.S. Army Blues 6:00 p.m.
Fri., Sept. 2 V-J Day 11:00 a.m.
Fri., Nov.11 Veterans Day 9:00 a.m.
Tues., Dec. 6 4th Annual Haydn Williams WWII Memorial Legacy Lecture TBD
Wed., Dec. 7 Pearl Harbor Day ~ 75th Anniversary Commemoration 1:53 p.m.
To learn more about the WWII 75th Anniversary Commemoration, click here.
Read the calendar of events for 2017-2020