In 2010, both houses of Congress voted unanimously for a national "Spirit of '45 Day" to honor the legacy of the men and women of the WWII generation. Spirit of '45 Day is now being observed each year in hundreds of communities and during Major League Baseball games on the second Sunday in August.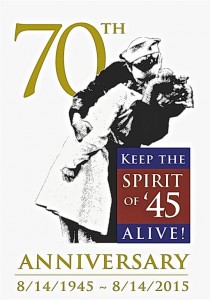 Join the growing family of organizations and individuals who are preparing to commemorate the 70th anniversary of "the Greatest Generation's Greatest Day" – August 14, 1945 – the day World War II ended and America began an unprecedented effort to assure a better future for the world's children and their children's children.
Communities across America are being invited to organize commemorative activities to help honor the service and sacrifice of the men and women who were the "ordinary heroes" of the generation that met the challenges of the Great Depression, fought to preserve freedom and democracy in the world, and then went on to help rebuild the postwar world.
Our World War II generation is now rapidly dwindling – please join us in honoring their service and sacrifice, celebrate their postwar accomplishments, and ensure that their legacy will continue to unite and inspire Americans for years to come.
http://www.spiritof45.org/home0.aspx
VBOB representative, Ralph W. Bozorth, Associate
2015
January 25, 2015 – Wreath Laying, Battery Park, NY
Media advisory
Program
Photos
Press release
February 12-15, 2015 – Spirit of 45' Day National Leaders Conference
San Diego, CA
Media coverage
number1
number2
number4
number5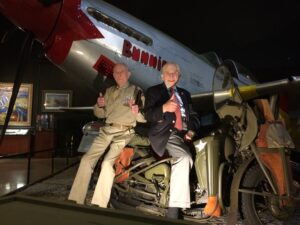 August 16, 2015 Worldwide Tribute to a Generation
details
September 15 to October 19, 2015 – Military Vehicle Preservation Association Convoy – Washington DC to San Diego, CA
America's Longest Veterans Day Parade
WWII Ground Forces Project
Military Vehicle Preservation Association (MVPA)
Cross Country Convoy Itinerary
September 15 – October 19, 2015
http://www.mvpa.org
September 15-18 Washington DC
September 19 Richmond, VA
September 20 Durham, NC
September 21 Lexington, NC
September 22 Charlotte, NC
September 23 Spartanburg, SC
September 24 Lawrenceville, GA
September 25 Talladega, AL
September 26 Birmingham, AL
September 27 Jasper, AL
September 28 Armory, MS
September 29 Tunica, MS
September 30 Little Rock, AR
October 1 Hot Springs, AR
October 2 Texarkana, TX
October 3 McKinney, TX
October 4-5 Fort Worth, TX
October 6 Eastland, TX
October 7 Cisco & Sweetwater, TX
October 8 Midland, TX
October 9 Pecos, TX
October 10 El Paso, TX
October 11 Deming, NM
October 12 Tombstone, AZ
October 13 Ajo, AZ
October 14-15 Yuma, AZ
October 16 El Centro, CA
October 17-19 San Diego, CA
2014
SPIRIT OF 45′ EXPRESS ITINERARY AND VISITS
Click here to read
PHILADELPHIA, PA
On February 6, 2014 a "Spirit of '45 Day" event took place in the 30th Street Railroad station in Philadelphia PA. The purpose of the event was to:
Promote the release of the movie "Monuments Men"
Honor the 1,307 workers of the Pennsylvania Railroad who were killed during WWII
Honor VBOB
Four members of VBOB were present, they were:
Carmen Guarino, 75th ID, 291st IR
Mike Ciquero, Navy Seabee, Pacific Theatre
Kevin Diehl, Associate
Ralph Bozorth, Associate
During the proceedings Kevin took pictures, interviewed the veterans and video-taped the event. People stopped to talk with the veterans, one young mother brought her three young children over to meet the veterans and had their picture taken. At the conclusion of the proceedings the veterans presented a wreath and saluted while a bugler played taps. The VBOB logo was mounted on an 18"x18" poster board and displayed on an easel. The WWII veterans were impressed and grateful.
People from the following organizations were present;
"Spirit of '45 Day"
VBOB
Bugles Across America
The Military Order of the Purple Heart
Dignity Memorial, the largest network of funeral services providers
Amtrak
The logo and easel were given to Warren Hegg, a driving force behind "Spirit of '45 Day", to be used at various events across the country. During March the logo will be in San Antonio, TX for an event.
SAN ANTONIO, TX
Monday, February 10, 2014, at Alamo Plaza
Monday morning's icy winds couldn't chill the warm welcome that local veterans and other military supporters gave members of a national group seeking to preserve the spirit of the Greatest Generation and commemorate the end of World War II.
The Keep the Spirit of '45 Alive! touring RV's stop at Alamo Plaza was one of several the nonprofit group members have made on their way from their home in Virginia to a Spirit of '45 leadership conference in California this weekend.
The group's official bugler, Auston O'Neill, and his wife, Bonnie, were pleased to see the small group of San Antonians, which included Army veteran Joshua Primm, his wife, Lauren, and Danny Castillo, vice president of the Texas Disabled Veterans Association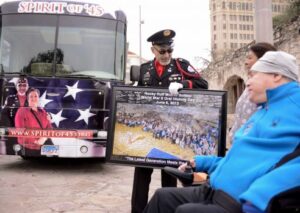 "You see how these people meet out in the cold, that's unity," O'Neill said. "That's something they believe in." As he stood in the plaza, clad in a blue uniform with red epaulets, O'Neill raised his silver bugle with white-gloved hands. The clear sound of taps rang out in the misty morning, bringing Alamo visitors passing by to a standstill.
Mary Virginia McCormick Pittman-Waller, who coordinated the nonprofit's local visit, will be among the representatives finalizing plans to celebrate the 70th anniversary of the end of World War II next year. Pittman-Waller, an advocate of wounded warriors, is the daughter of Dr. James Edward McCormick Pittman , a decorated medical officer at the Battle of the Bulge, buried in Utopia, where O'Neill was scheduled to play at a wreath-laying ceremony.
"We're bringing together the red, white and blue people of America who have been behind the scenes," Pittman-Waller said. "We're looking forward to everyone participating all across the United States."
Article and photo by Darren Abate/Express-News
INDIANAPOLIS, IN

We just left the Indy 500 folks who are planning to join the cause next year with a special program during the 2015 race. We would like to invite VBOB members to join the Express whenever it is in their area so they can be part of the photo ops that are now taking place wherever it makes a whistle stop.
Wherever possible, we want to continue to raise the VBOB flag throughout this year and we will be kicking off the 70th anniversary of the end of WWII next year with a ceremony on 70th anniversary of the end of the Battle on January 26.
The Military Order of the Purple Heart is helping coordinating things in preparation for their big signature event next year to mark the 70th anniversary of the end of the war.
Our next stop is Ohio.
SPIRIT OF '45 DAY EXPRESS TOUR 2014
Published on Sep 2, 2014
Video of photos taken during the cross country tour of the Spirit of '45 Day Express to raise public awareness about the events and activities planned for the commemoration of the 70th anniversary of the end of WWII in August 2015. Driven by "The Lone Bugler," AustIn O'Neill, Jr. and his wife, Bonnie, the Express logged more than 30,000 miles through 45 states between February 8 and Labor Day 2014, and will continue on through August 14, 2015 to honor the men and women of the America's Greatest Generation.
SPIRIT OF '45 SLIDE SHOW