Remembrance and Commemoration
of the 
73rd Anniversary of the
Battle of the Bulge
December 13-15, 2017 •
Metropolitan Washington, DC
Registration is now closed for these events.
This year, we have been invited to a co-hosted reception by the Belgium Ambassador Dirk Wouters and Luxembourg Ambassador, Ms. Sylvie Lucas, at the Luxembourg Embassy, on Wednesday, December 13, from 6:30 – 8:30 PM.
December 16 is Saturday and this happens to be the same day as the Wreaths Across America (WAA) Day. Since this event started in 1992, it has never occurred on December 16. Because no vehicles will be permitted in Arlington National Cemetery on December 16, we will be holding our wreath laying ceremonies on Friday, December 15.
The DoubleTree Hotel Crystal City by Hilton, 300 Army-Navy Drive, in Arlington VA 22202 has been selected again for this event. We have been able to secure a rate of $119/night for Wed/Thurs/Fri. The rates for Mon/Tues are $139/night and for Sat/Sun are $99/night. Parking is $12 a night for Monday through Sunday (It is usually $30/night). Please make your reservations early to secure a room. Please mention the Battle of the Bulge to obtain the special rate. If you need a handicap accessible room, please request this early. To make a Reservation: call 800-Hiltons (800-445-8667) or 703-416-4100 by December 1, 2017. Check-in time is 4:00 PM. Any guest checking in after 12 noon will be able to do so for no additional charge, based on the availability of rooms.
This year, we will offer a tour of the Pentagon pentagontours.osd.mil/Tours/. This is the headquarters of the Department of Defense, the Pentagon and is one of the world's largest office buildings. Built in just 16 months, the Pentagon is the world's largest low-rise office building. It is twice the size of the Merchandise Mart in Chicago, has more than twice the floor space of the Empire State Building, and the U.S. Capitol could fit into any one of its five wedge-shaped sections. The tour will accommodate wheelchairs and powered scooters.
Below are some highlights from the December 2016 commemoration: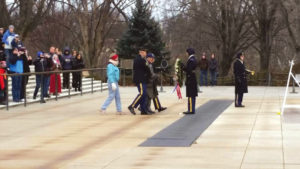 The Opportunity of a Lifetime
On Friday, December 16, 2016, my family and I had a chance of a lifetime. We witnessed our father, grandfather and uncle, Richard Whalen, lay a wreath at the Tomb of the Unknown Solider. We were in Washington, DC to attend the Remembrance and Commemoration of the 72nd Anniversary of the Battle of the Bulge. We had 31 family members present, and many traveled quite a distance to be part of this memorable occasion. He felt honored to have this experience and we were so proud to be part of it. Along with the experience of laying the wreath, we also visited the Belgian and Luxembourg Ambassador's Residences and were treated royally. We visited the WWII Memorial and the Holocaust Museum as part of this event. We will hold in our memory how proud Dad was to have this opportunity.
(Richard enlisted in the US Army in Feb, 1943 at the age of 17. After basic training in Camp Barkley, in Abilene, TX, he sailed to England on the Aquitania. His first encounter in WWII was on Omaha Beach on D-Day + 10. His initial unit was 201st QM Co, Co D and their name changed to 3816 GS (Gas Supply) Co. During the war, he was in France, Belgium, Holland, Luxembourg, Germany and Austria and fought in the Battle of the Bulge. Col Whalen retired in 1977 after 37 years of service which included the Michigan National Guard and Army Active duty.)
—Submitted by Mary Towe, daughter of Col. Richard Whalen
Visits to the Belgian and Luxembourg 
Ambassadors' Residences
During the Remembrance and Commemoration of the 72nd Anniversary of the Battle of the Bulge Dec 14 – 16, 2016, we were guests at the residence of the Ambassador of the King of Belgium to the US, Dirk Wouters, and his lovely wife Katrin Van Bragt. Along with our Veterans, Marcel and Mathilde ("M & M") Schmetz were honored that evening. M & M made the journey from Thimister-Clermont, Belgium to attend the Commemoration. Many of us know M & M because of their museum, the "Remember Museum 39-45" (website: www.remembermuseum.be) Also in attendance were Johan Andries, Belgian Defense 
Attaché to US and Canada; Johan Verbeke, Ambassador from Belgium; and Robert McDonald, Secretary of Veterans Affairs.
We were also guests at the Residence of the Ambassador of Luxembourg, Ms. Sylvie Lucas. She and our new Consul General of Luxembourg, Stan Myck, greeted all of us. We were honored to be guests of our Ambassadors.
—Submitted by Doris Davis
Photos of the Belgium event, taken by Robert Turtil, Public Affairs Specialist of the Department of Veterans Affairs in Washington, DC., can be viewed on the VA Flicker Page: https://www.flickr.com/photos/veteransaffairs/albums/72157676654934610