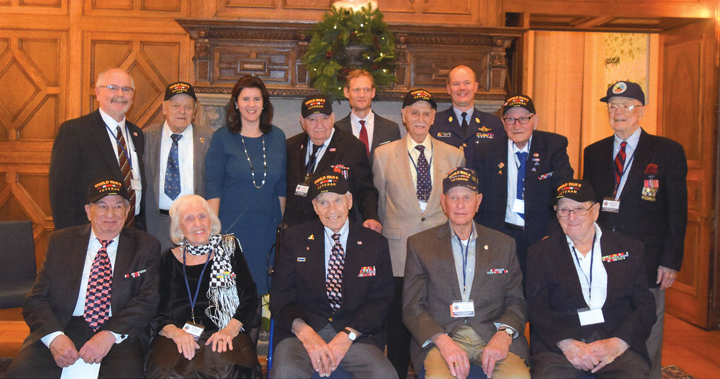 The 73rd Anniversary of the Battle of the Bulge Event in Washington, DC
Events Recap
There were about 70 people who came together to commemorate the 73rd Anniversary of the Battle of the Bulge Dec 13 – 15, 2017. On Wednesday, Dec 13, we were guests at the Luxembourg Ambassador's Residence and were greeted by Her Excellency, Sylvie Lucas, Ambassador of Luxembourg. Also present was Mr. Christophe Payot, Charge D'Affairs ad interim of the Embassy of Belgium. We were honored to have 9 Veterans and 1 Nurse Veteran who served during the Bulge with us that evening. On Thursday, we visited the Pentagon, and enjoyed our banquet that evening. On Friday, after wreath laying ceremonies at the WWII Memorial, the Veterans of the Battle of the Bulge Monument and the Tomb of the Unknown Soldier, we enjoyed a luncheon at the DoubleTree Hilton hotel. On Saturday, approximately 20 people stayed over to lay wreaths on Wreaths Across America Day.
The opportunity to take part in laying wreaths during Wreaths Across America will present again next year—on Sat, Dec 15. There were 90,000 participants who laid 244,700 wreaths this year (the largest turnout ever recorded). In the entire US, grateful Americans laid 1,565,000 wreaths at 1,422 participating locations. The wreaths were delivered by 500 truckloads transported across the country through a network of hundreds of volunteer drivers, donated trucking and diesel, and countless hours of dedicated volunteers committed to the mission to Remember, Honor and Teach. —Submitted by Doris Davis
Laying the Wreath at the Tomb of the Unknowns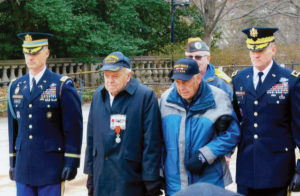 Athanace "Joe" Landry, Jr. 776 AAA AW Bn and Fred Gordon, 9th ARMD FABN laid a wreath at the Tomb of the Unknown Soldier in Arlington National Cemetery on Dec 15, 2017. The Tomb is guarded by sentinels from the 4th Bn of the 3rd US Inf Rgt (The Old Guard). The Commanding General of the Military District of WA, MG Michael L. Howard, accompanied the Veterans as they laid the wreath. It was very moving ceremony. It was hard to hold back the tears when the bugler played TAPS, with the drummer quietly adding a special effect.
Joe, Fred and their families share their thoughts on the special day:
Joe Landry: I was surprised and honored. It brought back a lot of memories, especially from 1944. Never in my 93 years did I expect something like this to happen to me.
Steve Landry (Joe's son): Living far from home for many years, I've seldom been able to see my Dad receive the honors he has gotten for his service, not only for his time in the Army, but for his many years of support to Veterans organizations and causes. It was truly special to see him have the opportunity to lay a wreath at the Tomb of the Unknown Soldier. Knowing just how special it was to him, made it doubly so for me and my wife.
Fred Gordon: First of all, I was very surprised and proud to have been chosen for this sacred honor of placing the wreath at the Tomb of the Unknown Soldier along with Joe Landry. It was a privilege to have the chance to honor these brave men who not only gave up their lives but also their bodies and identity in battle.
Cheryl Gordon (Fred's wife): I was thrilled when Fred was given the opportunity and honor to place the wreath at the Tomb of the Unknown Soldier. I know both Fred and Joe were very cold as they waited without shelter for the ceremony to begin. As I watched, it brought tears to my eyes, even behind the camera as I tried to take some photos. And it still brings tears each time I tell someone that Fred placed the wreath in Arlington. What an honor! —Submitted by Joe Landry, his son Steve, and Fred & Cheryl Gordon
Another Take on the Events
My wife Judith Kroll and I felt compelled to write and let you know how impressed we were with the 2017 Battle of the Bulge Commemoration in Washington D.C. As information, my wife's father Joseph M. Kroll Jr. fought in the Battle of the Bulge, but he passed away 45 years ago when Judith was very young. He was in the 99th Infantry Division. He received the Bronze Star and the Combat Infantryman Badge for his service. He was a Mess Sergeant and in the Military Police during the war in Germany and Belgium. It has been one of my wife's quests in life to find out about her father's military service, his experiences as a young soldier, and to meet veterans who may have known her father. We only found out about the Veterans of the Battle of the Bulge Organization during our trip to Normandy, France for the 70th Anniversary of D-Day, and she has been an active member of BOBA ever since we returned. For her, it is an incredible way to honor her father's memory and to keep this important part of American history alive for future generations.
It is always an unforgettable experience to talk with actual veterans of the Battle and we enjoyed every moment spent talking with the 9 veterans and 1 nurse who were in attendance this year. We appreciated having the time every day in the hospitality room to get to meet these fine veterans and their families, with plenty of time to converse with them and hear each of their recollections. These are precious moments for us and ones that we will never forget.
The registration process on Wednesday was organized and easy, allowing for everyone in attendance to seamlessly begin to participate in the festivities. We particularly enjoyed the tree trimming and the interesting stories some of the vets shared while hanging their ornaments on the tree.
The reception at the Luxembourg Embassy was just a joy to attend, especially listening to the dignitaries from Luxembourg and Belgium thank those veterans for their efforts in liberating these two very thankful countries.
The Pentagon tour of course was extremely interesting, and we were truly honored to walk these hallowed halls with some of the Bulge veterans who are our countries greatest heroes!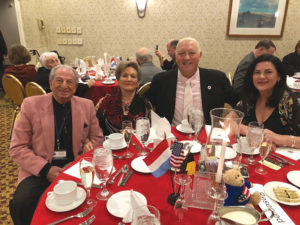 The banquet was exquisitely planned, and it brings such a warm feeling to our hearts to see everyone together to celebrate and honor these very special men and women.
The events at Arlington Cemetery and at the WWII Memorial on Friday were a truly humbling experience. Seeing these veterans honored in such a prestigious way was a sight to behold. Also having high-ranking military personnel and foreign dignitaries pay tribute to them and their lost comrades made these events all the more memorable.
We appreciated the extra bonus of Doris Davis organizing our participation on Saturday in the Wreaths Across America event at Arlington National Cemetery—truly a moving experience.
We would hope that everyone—veterans or associated families—would make every effort to participate in this event in the future, and assuredly that they will have an enjoyable and memorable experience. We would also encourage families who have lost these venerable veterans to father time, like we have, to also plan on attending. Their memories will always be held dear to our hearts, and as that wonderful veteran Irving Locker always says, "Lest we never forget."
We wanted to compliment Doris Davis for putting together such a well-planned and interesting event. Thank you, Tracey Diehl, for the ease in registration and Alan Cunningham for your help during the banquet. It's clear that a great deal of time and thought was spent in planning this commemoration. Every detail of the event was well-organized, and I am sure that everyone in attendance had a remarkable time. Please carry on the wonderful work—it is sincerely appreciated.
—Submitted by Tom Gargaro and Judith Kroll, Members