Gary Higgins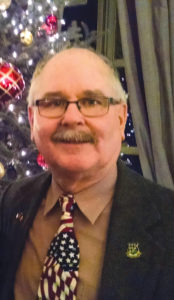 Happy New Year and Welcome to our new era as the Battle of the Bulge Association, Inc. Let me introduce myself as your new BOBA President. I am from Michigan and have been involved with VBOB for the previous 16 years as an associate member. Many of you have met me on tours, events across the USA and military programs.
My first unforgettable VBOB event was in 2004, at the 60th Anniversary of the Battle of the Bulge in Belgium. This event forever changed my insight into the famous Battle. Between that date and the 70th Anniversary in 2014, I spent some years on the VBOB Executive Council as a trustee, had great times doing so, and made many friends. This past October in Seattle, the members elected me to serve as your new president, a very honored and distinguished title to hold. We have family who served in the Battle of the Bulge and this is how I became involved in VBOB. It is my intent to share some of my family stories in the coming months.
Many members have asked about my background. I am a Life Member of the Vietnam Veterans of America, Life Member of the Veterans of Foreign Wars and Life Member of the Disabled American Veterans. I was a squad leader with the US Army in the DMZ and in 1969-70, my rank was Sgt. E-5 in the 32nd Infantry Regiment. We did the basic infantry duties, patrols, ambush detail, security, and S & D (search and destroy), as so many of our Bulge veterans did in the cold of Belgium and the ETO.
My interest has always been in WWII and the incredible efforts our nation brought forth to defeat Hitler and the enemies of our world.
I am married to Carol Higgins (also a BOBA member), and together we have raised a son and daughter on our farms in Michigan.
At our December meeting, we shared past events, various programs, and issues including how to improve BOBA and how to get new members, as our number of veteran members decrease. (This is happening with all types of service organizations.) Please let me know of any ideas or thoughts you may have on how to assist in our membership efforts. As Article 2 of our bylaws states, our purpose is to perpetuate the memory of the sacrifices made by US military personnel during the Battle of the Bulge, and to maintain international relations. We will continue to work with the Ambassadors of Belgium and Luxembourg, and any and all of the veteran groups as well, that can relate to us on the Battle. Again, we will be seeking new members and reaching out for volunteers with ideas on how to promote BOBA, Inc.
Your board and its members will be transparent, and the same goes for me. I am prepared to assist however I can, to find the resources to get the proper answers to any questions arising. It is my hope to have a small profile of each board member in upcoming issues of the Bugle.
Please submit your material to the Bugle, with photos and history of your family members who served. It can be as small or large an article as warranted, but we need to document and share your family's Bulge story. [Material deadline for the next issue, May, will be March 24.]
Plans are in the works for the 2017 reunion to be held in San Antonio, Texas next fall. You will be updated as more is known, with full details in the May issue.
In December, at Arlington, we had our wreath laying ceremony at the Tomb of the Unknown Soldier, our VBOB monument and also at the WWII monument. The weather was very cold and windy. The banquet was well-attended and our hospitality room well-received. John Bowen and the Battle of the Bulge Historical Foundation did a great job for all in attendance.
I've been informed of two chapter closings this month. If you know of any additional chapter closures, please contact us.
A new year is upon us and I want to wish all of you a great 2017!