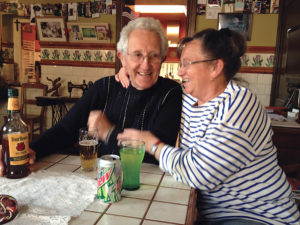 Joe Landry (776 AAA AW BN) and Barbara Mooneyhan (Executive Vice-President, VBOB) need your help in raising money to bring these two deserving Belgium citizens to Washington, DC for the 72nd anniversary of the Battle of the Bulge by the Historical Foundation!
Here is a little bit of background information about Marcel and Mathilde Schmetz. In 1940, When Marcel was 7 years old, aided by the hazards of war, his village Clermont-sur-Berwinne was cut into two parts … Germanic annexed by the German Reich and occupied Belgium. Marcel lived in a locality clearly of Germanic origins and he would spend all of his primary school years in German. The Liberation came on September 11, 1944. Then there was the Battle of the Hurtgen Forest (which Barbara's Dad was involved) and this lasted all fall.  The losses were enormous and unbearable. The Allied Command decided to take a break as winter was coming.
Marcel's family farm (he was 11 years old) was transformed into an immense bivouac with 110 soldiers from Company D of the 26th Regiment of the First Division, (the famous "Big Red One").  This paradise for a kid deprived of everything for four years, would only last three weeks. These 3 weeks marked this child for life: the contrast between the occupation and the overwhelming abundance of the American GIs.
This dream ended on December 16, 1944 when Hitler decided to change the course of events and the Battle of the Bulge began. At the Schmetz farm, everyone packed his kit and departed for the north flank in a rush. The soldiers didn't burden themselves with excess weight and the result was the Schmetz's found themselves with a treasure trove of mixed objects. At the Schmetz farm, it was kept – first out of a reflex of economy but over time out of respect in memory of the people who had become dear to them.
Then Marcel met Mathilde in 1991. Together, they would become a dream team.  Mathilde would take advantage of Marcel's retirement and his many talents to "put a little order in all that stuff". In fact, she would help him to highlight the patient work of an entire life spent collecting. An immense abandoned stable on the farm would serve their purpose. It was emptied and after a multiple of improvements, was dedicated on June 12, 1994 for the 50th Anniversary of D-Day as The Remember Museum 39-45.
Since that time The Remember Museum 39-45 had hosted many visitors, most of all American veterans and the families of American soldiers who rest forever in the American cemeteries in Europe. These veterans, struck by the respect surrounding these objects, bring more and more personal souvenirs, certain that their memory will be faithfully kept.  In addition to this magnificent museum, Marcel and Mathilde have adopted two graves at the nearby Henri-Chappell Cemetery, one of which is PFC James G. Ellis of the 99th Division from South Carolina who was killed on December 17, 1944. They also host wounded veterans from the Iraq and Afghanistan wars. They come to the Museum to stay for a few days from the hospitals in Germany.
Their organization relies strictly on donations and personal finances to maintain this remarkable museum. Please help us recognize their extraordinary efforts by having them as our guest in Washington on December 13 – 17, 2016. Please send questions or donations to Barbara Mooneyhan, Stages of Remembrance, 2440 Wash Lever Road, Chapin, SC or mooneyhanbj@aol.com. She can be reached at 803-318-1184. While these donations are not tax deductible, the IRS allows tax free gifts to any individual up to $14,000 per calendar year.