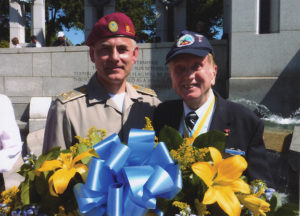 by J. David Bailey, Past VBOB President (2010-12)
Seventy-two years ago, more than 160,000 Allied troops stormed the beaches of Normandy. On January 6, 2016 at the World War II Memorial in Washington DC, veterans in their 90s, and the families of fallen soldiers, commemorated the epochal D-Day, gathering to honor those who fought during the invasion.
The ceremony was traditional in nature—there was a public wreath-laying event to remember those who died. I was indeed honored, representing the Veterans of the Battle of the Bulge, to lay a wreath at the Atlantic Arch of the World War II Memorial. This was in memory of 9,000 Allied soldiers killed or wounded during the invasion. I was accompanied by Col. Andrew Ordynovych, the Military Attache of Ukraine.
David O'Sullivan, The European Union Ambassador to the United Sates, was the main speaker, and also presented a wreath during the event. Josiah Bunting III, chairman of the Friends of the WWII Memorial, delivered special remarks, and the Military District of Washington provided support for the event.
The sound of trumpets playing "Taps" concluded the ceremony.