Recently our Mississippi VBOB Treasurer, Ms. Mary Ellen Stanley, called to say she had received a second substantial check from a supporter of our scholarship project of 2015. The check was sent to honor and remember her late husband who was a combat veteran of the BOB. The Mississippi scholarship project for students related to Miss. veterans will now be continued in 2016, and we are at the moment preparing the necessary papers of announcement and applications, etc. Our Miss. Chapter is blessed to have older members who really care about the education of our young people and are happy to support it, even if it is a sacrifice. 
   Now we hope it is time for the National group of VBOB to have a scholarship project for young people of college age who are related to our wonderful B.O.B. Vets. We can truthfully say that it has energized our group and made us feel positive about what we can still contribute to society… even in our " last quarter." At the same time, we are educating students and their parents about this critical battle of WWII … lest we forget … We think the time is now.
—Submitted by Dr. James W. Hunt, Chapter 33 President, and Jane Hunt
CHAPTER 33 PRESIDENT SPEAKS AT MSU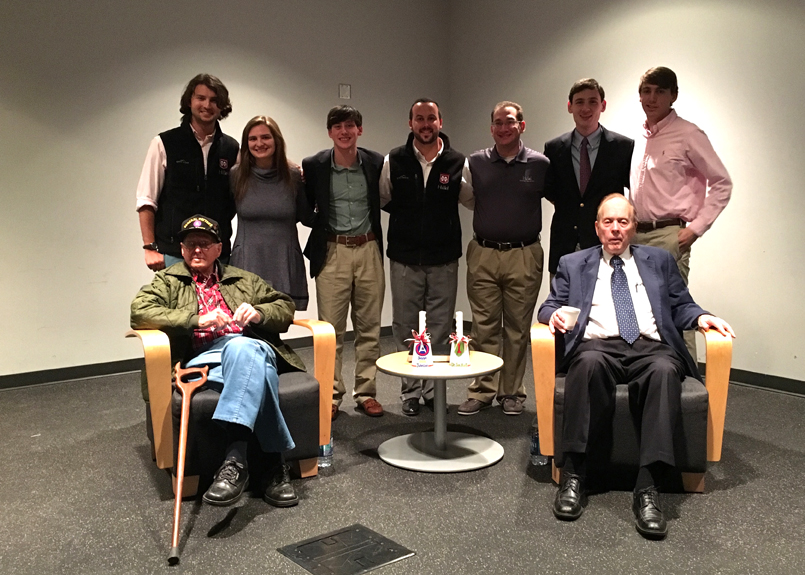 On March 21, 2016, Hillel, a student organization at Mississippi State University, hosted Dr. Jim Hunt, VBOB Chapter 33 President, and veteran Joseph Johnson, to speak about their service during World War II. They spoke in the Union Dawg House to a packed house of roughly 95 people. Both Mr. Johnson and Dr. Hunt were given Cowbells with their Division patch painted on them, and posed for requested photos afterwards. Spectators who came to hear these two men were a mixed group of young and older patrons. This event couldn't have been done without the help of Jacob Craig, who was newly elected as the next president of Hillel. Seated (l-r:): Joseph Johnson and Dr Jim Hunt. Standing (l-r): Andrew Shamaskin, Alexx Lux, Jacob Craig, Hillel President Joseph Metz, Scott Sincoff, Will Leonard, and Jake Grogan.