Now I adopted two other soldiers and again I would like to know if there is any some family and information of these soldiers.
Private ARTHUR H. FRENCH – 36690011 – ILLINOIS
Private First Class STANLEY T. YASCZAK  – 33136597-  PENNSYLVANIA
Private MELVIN M. MILLER – 37692104- IOWA
These three soldiers are of the 16th Infantry Regiment, 1st Infantry Division.
This year with Memorial Day, May 28, I will again visit the two Cemeteries here in Belgium, Neupré and Henri-Chapelle.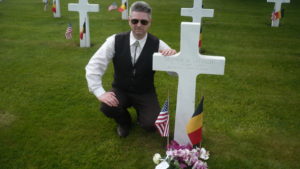 Respectfully,
Please contact me
Danny Sijmons