Women 'Can Do' Too!
A visit to the Rosie the Riveter WW II Home Front 
National Historical Park
by Doris Davis, Associate
On August 21, 2015, I visited the Rosie the Riveter/World War II Home Front National Historical Park in Richmond, CA (north of San Francisco). This was my 2nd visit there. I highly recommend a visit to this park Visitor Center.
Richmond, California was chosen as the site for this National Historical Park because it has so many surviving sites and structures from the World War II years that can help tell the diverse stories of the home front. These stories include the mobilization of America's industry and the changes in production techniques; the struggle for women's and minority rights; the labor movement; the growth of pre-paid medical care; advances in early childhood education and day care; recycling and rationing; major shifts in population; and changes in arts and culture.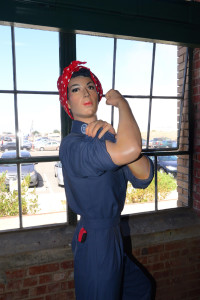 Richmond played a significant and nationally recognized part in the World War II home front. The four Richmond shipyards produced 747 cargo ships, more than any other shipyard complex in the country. Richmond was also home to over 56 different war industries, more than any other city of its size in the United States. The city grew from less than 24,000 people in 1940 to nearly 100,000 people by 1943, overwhelming the available housing, roads, schools, businesses and community services. At the same time, Executive Order 9066 forcibly removed Japanese and Japanese-American residents from the area, disrupting Richmond's thriving cut-flower industry. The war truly touched every aspect of civilian life on the home front. Through historic structures, museum collections, interpretive exhibits, and programs, the park tells the diverse and fascinating story of the WWII home front.
There is an education center with exhibits, along with movies that show how Richmond, CA was transformed. It brings out the fact that people worked together for a common cause and that there was a strong sense of patriotism. One of the movies has interviews of ladies who remember entering the work force for the first time and what they had to endure as they worked alongside men for the first time. It had its challenges, but they persevered. We can thank those women for changing the course of history for us.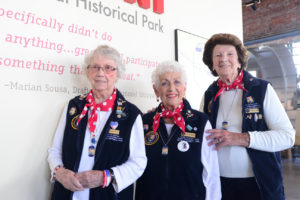 If you decide to visit this beautiful location, filled with history, the chance is great that you might even meet some of the Rosies! The Historical Center has a number of volunteers—many of whom actually worked in the shipyards in WW II. Take time to talk to them and hear their stories, and you will feel like you've gone back in time with them. They love telling their stories!
For more information, go to http://www.nps.gov/rori/index.htm