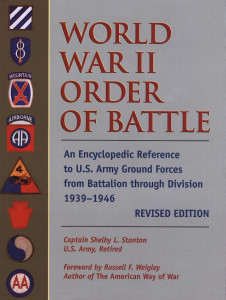 WORLD WAR II ORDER OF BATTLE By Capt. Shelby L. Stanton
In this extraordinary encyclopedic reference book, Shelby Stanton provides a detailed picture of the U.S. Army's fighting edge. "World War II Order of Battle" covers the structure and organization of the Army's ground combat forces. It documents and illustrates the service of U.S. Army infantry, cavalry, armored, tank destroyer, field artillery, coast artillery, and engineer units from battalion through division.
The sum of the information gathered here is not available anywhere else — in the private sector, the military, or in the government and includes:
Unit listings organized according to major command and branch of service:
Combat units including engineer, detailed to battalion level.
Divisional attachments are given and Army garrison forces listed.
Insignia: A collection of distinctive insignia for those Army units, larger than battalion, as authorized by the U.S. Army.
Photographs: Weaponry, equipment, vehicles and combat.
Army deployments and stations: a detailed overview for every area of the world.
Listings and descriptions of Army ground force posts, camps, and stations, including ports of embarkation.
Authorized strength tables for all units listed, as well as detailed organizational charts for many battalions and subdivisional units never before published.
The author spent ten years painstakingly researching and compiling the information for this book. He worked from government and military archives, from the actual unit records stored in restricted files and depositories not generally accessible.
A must for historians, writers, researchers, modelers, educators, veterans, collectors, and military buffs. If you want to know where your unit (Regiment, Division) fought, this book will give you the answers.
Published by GALAHAD BOOKS, NY, and available on bookstore websites, including Amazon.com: http://www.amazon.com/World-War-Order-Battle-Encyclopedic/dp/0811701573
submitted by John McAuliffe, 87 INFD, 
Central Mass Chapter 22 President